National Recovery Month celebrates the gains and progress of people and communities in recovery and promotes evidence-based approaches to recovery, the emergence of a strong and proud recovery community, and the dedication of service providers and community members who make recovery possible.
To mark the 32nd National Recovery Month, CHI is highlighting a new effort to reduce opioid-related deaths and opioid use disorder in western Colorado by expanding prevention, treatment, and recovery services.
Western Colorado is home to approximately 164,000 residents and has one of the state's highest rates of opioid-related deaths. While many people and organizations have been working to address this epidemic, a recent needs assessment highlighted a range of unmet needs in this rural area, including a lack of diverse pathways to recovery.
High Rockies Harm Reduction, a new nonprofit organization based in the Roaring Fork Valley, which spans Pitkin, Eagle, Garfield, and Gunnison counties, is aiming to change that.
Harm reduction is a public health approach that aims to reduce stigma and to keep people who are using drugs alive and healthy. While it's commonly associated with safe needle exchanges, programs through which people who use drugs can obtain clean syringes and reduce the transmission of disease through shared needles, harm reduction can also include fentanyl test strips or education on how to use substances more safely.  We spoke with Maggie Seldeen, the founder of High Rockies Harm Reduction, about the organization and its goals.
High Rockies Harm Reduction: Supporting the Roaring Fork Valley
"High Rockies Harm Reduction was really created out of an acknowledgment that there's a severe service gap for people with mental health and substance use issues in resort towns," Seldeen said.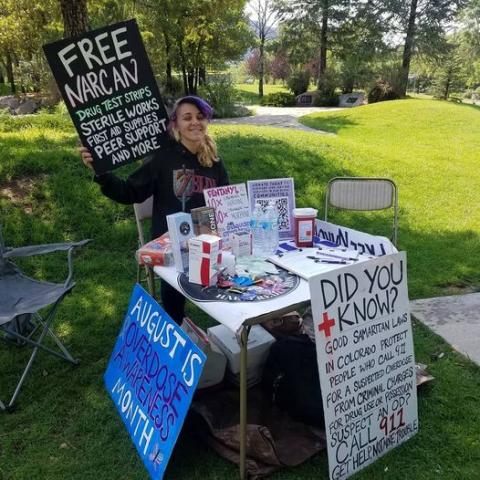 Seldeen said that substance use has been normalized for many in these towns – and that while communities in the Roaring Fork Valley have many strengths, there hasn't always been the right kind of support for people who are using or hoping to stop using drugs. When Seldeen was 15, her mother died of a drug overdose. That same year, a friend was diagnosed with Hepatitis C. At the time, Seldeen was also using heroin. She is now in recovery and is committed to improving access to services that she believes can save the lives of people in her community.
The idea to create a harm reduction nonprofit grew out of a project for a Colorado Mesa University political advocacy class: Seldeen pitched a hypothetical campaign to support bringing needle exchanges to rural communities. She quickly realized there was a real need for this sort of program in the Roaring Fork Valley.
Seldeen was already involved in the issues of opioid use disorder through her work as a peer recovery counselor at Mind Springs, the Western Slope's largest behavioral health provider organization. She learned that Colorado's legislature had recently passed a set of bills aimed at facilitating the creation of harm reduction programs, so the time seemed ripe. In 2020, High Rockies Harm Reduction officially incorporated.
Seldeen said that while harm reduction approaches like needle exchanges can be a hard sell for people who are concerned that they encourage the use of substances, they are an important part of a spectrum of services.
"You can't save someone if they're not alive. And everyone is capable of redemption," Seldeen said. "We're keeping people alive until they're ready to take the next step."
"A lot of the resources that exist don't fit the need," she noted. For instance, a recovery program that requires total abstinence from substances might deter someone who is interested in giving up heroin but not alcohol from taking steps to reduce their opioid use. A recovery program with a focus on spirituality and a higher power may not resonate with every person's belief system.
High Rockies Harm Reduction received grant funding to buy fentanyl strips, which are used to test for the presence of fentanyl in order to prevent overdoses. It is also working to connect with similar programs around the state.
High Rockies Harm Reduction is offering trainings on a range of topics, including using naloxone to prevent overdoses and education on using fentanyl test strips. The organization launched syringe exchange services in the summer of 2021. The team is in the midst of a six-month needs assessment to determine what additional services are most needed where.
Seldeen thinks that efforts to do things differently in western Colorado are already starting to pay off. "2020 was poised to be this year of really intense overdose increases. I can't prove this, but I have to believe the collaborative efforts of Mind Springs, other partners, and the police to get information out here have helped," she said.
Data from the Colorado Department of Public Health and the Environment support this perception: The age-adjusted rate of opioid-related overdose deaths in Garfield County dropped from 9.6 deaths in 2019 to 7.3 per 100,000 residents in 2020. 
"That's been our biggest success," she said. "People in our community who would not have been here — are still here."
---
Related Blog Posts and Research