Strengthening Relationships Between Health and Community Organizations to Support Health Equity
August 12, 2021
Social Determinants of Health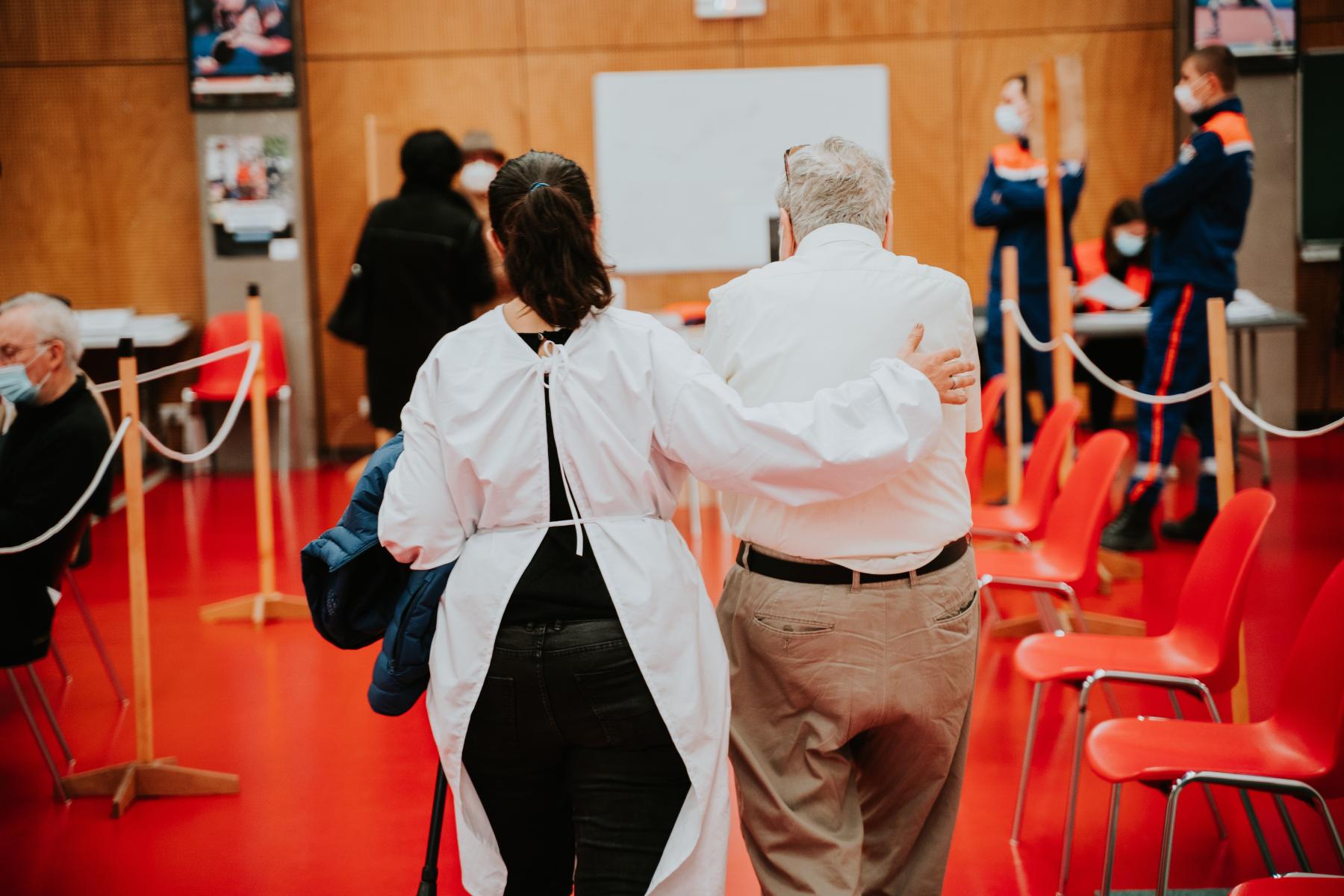 Throughout the COVID-19 pandemic, nonprofit organizations, social service agencies, faith-based organizations, advocacy groups, and formal and informal community groups across Colorado have played a pivotal role in improving communities' health.
Although not traditionally thought of as health care organizations, churches, food co-ops, schools, and other groups are leveraging and even creating opportunities and resources to serve and empower their communities. Many community-based organizations serve and support communities of color and other Coloradans who are disproportionately affected by the spread of COVID-19 and have faced barriers to accessing the COVID-19 vaccine. Their efforts have helped bring needed services to these Coloradans. For instance, community-based organizations supported immunization events by providing outreach and education; scheduling and arranging transportation for COVID-19 vaccine appointments; and working to address vaccine hesitancy.
Community-based organizations' COVID-19 response efforts have been successful in part due to their position on the ground, which allows them to establish and foster strong community connections. Many organizations provide direct services; many were established by people within communities in response to needs they noticed in day-to-day life. However, that position also means they tend to be further from resources.
But there is a growing acknowledgment of the powerful role these organizations can play. The Department of Health and Human Services awarded $250 million in workforce grants to community-based organizations to bolster COVID-19 vaccinations in underserved communities. In Colorado, the Colorado Department of Public Health and Environment (CDPHE) has partnered with community-based organizations to conduct outreach and host COVID-19 vaccine clinics. Through Colorado's COVID-19 Vaccine Equity Fund, a partnership between Immunize Colorado and the Colorado Vaccine Equity Taskforce, $4.2 million has been granted to more than 88 organizations across Colorado. Regionally, the Metro Denver Partnership for Health, together with the Colorado Trust, Colorado Community Health Alliance, Colorado Access, and CDPHE, is awarding $215,000 to about 34 community-based organizations in the metro Denver area through a Community Ambassador program, which started in November 2020 and will run through December 2021.
Before joining the Colorado Health Institute, I worked in COVID-19 response at CDPHE, where I had the opportunity to partner with community-based organizations to plan and support community-led COVID-19 immunization events. I was inspired by their swift response to meet community and even neighborhood-specific needs. And I believe it is important for us to learn from the experiences of the past year to ensure these organizations have the support — and voice — they need to advance the health of their communities moving forward.
What lessons can we take from the experiences of this past year?
Strategic partnerships between health care organizations, public health agencies, and community-based organizations can advance public health.
During the COVID-19 pandemic, community-based organizations served as an important link between community members and care. For instance, Servicios de la Raza (a nonprofit organization that provides and advocates for culturally responsive, essential human services for metro Denver's Latinx community) and Ventanilla de Salud (a health resource center located in the Mexican Consulate of Denver that offers preventive health services) vaccinated 9,000 individuals across 40 COVID-19 immunization events statewide. There are opportunities in COVID-19 recovery and beyond to foster and strengthen this type of partnership between community-based organizations and health care organizations. These partnerships build trust both between organizations, and between communities and service providers, which in turn promote equitable access to care.
Community-led organizations can identify and address unmet needs.
Community-led organizations are well-positioned to amplify the voices of marginalized communities and to provide culturally relevant, equitable, and strategic solutions. For instance, Voces Unidas de las Montañas was founded during the pandemic to address the needs of Latinos and Latinas in Garfield, Eagle, and Pitkin counties, and is the first Latino-created, Latino-led advocacy nonprofit in the region. Since May 2020, Voces Unidas has created a promotora program, improved distribution models to combat food insecurity, and reached nearly 4,000 individuals through direct assistance and vaccination events. Voces Unidas' founders were able to identify and sought to address an unmet need to improve the health of individuals in their community.
To reach underserved populations and have the greatest impact, community-based organizations should be engaged early and equitably.
Having these organizations at the table during planning, not just implementation, can ensure that programs and strategies are designed with the needs of underserved populations in mind. And to engage community-based organizations equitably, it is important to recognize that involvement might look different depending on an organization's capacity, and to support them financially for their involvement.
This work requires funding.
Supporting this work goes beyond thinking about the availability of funding — the real issue is the accessibility of funding for smaller, potentially less-resourced community-based organizations.
That last lesson has a few sub-lessons. Community-based organizations' experiences point to several practices that are needed to ensure funding is distributed equitably and gets where it needs to go:
Provide funds upfront rather than reimbursing. Smaller community-based organizations may be unable to front the cost of a program or activity, so if funds are only available through reimbursement, they may not be accessible to these organizations.
Simplify grant/funding applications and requirements. Smaller community-based organizations may not have the capacity or resources to write competitive proposals for funding or conduct complex program evaluations. Grant/funding applications that are not equity-centered by design may exclude efforts that are hyperlocal and community-led. In some cases, it may not be feasible to make funding more accessible to smaller, lower-resourced community-based organizations. In these instances, higher-resource organizations that are better positioned to apply for competitive grants should consider partnering with smaller organizations that have expertise and connections locally.
Fund without strings attached. Community-based organizations know their communities and know how to best reach community members with programming, services, and resources. Instead of having strict requirements, funding opportunities should allow for flexibility and empower community-based organizations to use the dollars as they see fit.
Partnerships between health and community-based organizations have been built and strengthened during the pandemic — a silver lining in a difficult year. Maintaining and continuing to strengthen — and fund — these partnerships is an important step toward advancing health equity for all Coloradans.
---
Related Blogs and Research