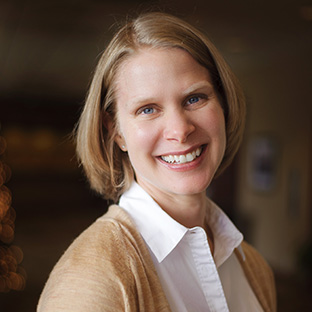 Favorite Quote
"Nothing in life is to be feared, it is only to be understood. Now is the time to understand more, so that we may fear less." – Marie Curie
---
FAVORITE PLACE IN COLORADO
Any cross-country ski trail in Grand County
---
FAVORITE READING
The Sellout (Paul Beatty); Swamplandia (Karen Russel); and waiting for the next Hilary Mantel novel
Sara Schmitt
Managing Director, Research, Evaluation, and Consulting
Sara Schmitt is the Managing Director of Research, Evaluation, and Consulting at the Colorado Health Institute. She joined CHI in January 2012. She supports the development and execution of CHI's research, evaluation, and consulting portfolios.
Sara provides strategic support and facilitation for the Metro Denver Partnership for Health (MDPH), a multisector collaboration to advance health in the metro Denver area. She also leads CHI's work on the Colorado Health Observation Regional Data Service (CHORDS), a network of health and public health partners working together to use electronic health record data to support public health monitoring and evaluation. In this role, she facilitates CHORDS governance activities and oversees network development and expansion.
In 2019, Sara led CHI's work facilitating the environmental scan for hospital partners participating in the MDPH Public Health-Health Systems Collaboration Work Group as part of the Hospital Transformation Program.
Before joining CHI, Sara was a policy analyst at the Colorado Rural Health Center, the state office of rural health, and recruited physicians and other medical professionals for clinics and hospitals in Colorado's rural and underserved regions. She spent several years in managed care and program development at the University of Chicago Medical Center. She also has worked in policy advocacy and provided supportive services for people living with HIV/AIDS.
Sara earned a bachelor's degree from DePaul University and a master's degree in health administration and policy from the University of Chicago. 
Sample Projects:
Skills: Facilitation and convening, evaluation, data and information governance, needs assessment.
Focus Areas:
Multisector collaboration

Public health and prevention

Health information technology
I Do This Work Because… Every one of us has had an experience related to health that has changed our lives, or the lives of those around us. I work to inform and advance sound health policy so that I may stay connected with those experiences and shape the ones yet to come.