Key Takeaways
The COVID-19 Primary Care Vaccination program provided nearly $17 million in funding to 374 primary care provider clinics to increase providers' capacity to vaccinate Coloradans against COVID-19.

Program funding helped 121 primary care provider clinics enroll as COVID-19 vaccine providers.

Sites participating in the program provided 272,566 COVID-19 vaccinations to eligible Coloradans over the five-month program period. That's the equivalent of first, second, and booster doses for nearly 91,000 Coloradans.

Program funding provided much-needed financial support to provider clinics serving underserved populations. Almost one-third (31%) of clinics receiving funding are part of Colorado's health care safety net, such as federally qualified health centers, rural health clinics, or school-based health centers.
Program Overview
The COVID-19 Primary Care Vaccination (COPCPVax) program provided vital resources and assistance to 374 primary care provider clinics to increase providers' capacity to vaccinate Coloradans against COVID-19. To support primary care providers (PCPs) in making the COVID-19 vaccine available to their communities, the COPCPVax program invested $16.8 million in primary care infrastructure, including storage units, data systems, and personnel.
The COPCPVax program was funded by the Colorado Department of Public Health and Environment (CDPHE) and administered by the Colorado Health Institute (CHI). The program provided primary care practices $60,000 to $120,000 per clinic to support administration of COVID-19 vaccines, depending on the size of each primary care clinic.
Practices with 500 or more clinicians across all clinics were invited to apply on behalf of clinics in their provider network that serve high-need populations and would benefit from additional resources for vaccination efforts.
The program ran from September 2, 2021 through January 31, 2022.
Read Evaluating the COVID-19 Primary Care Vaccination Program to learn more about the program's underlying principles, funding allocated, phases of funding, and keys to success.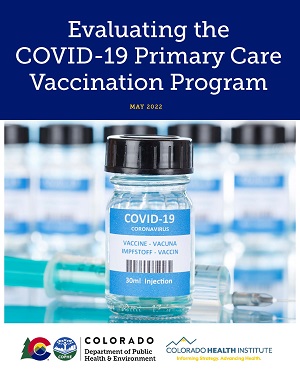 Who Participated?
According to data submitted by clinics on their applications to the COPCPVax program, more than 150 participating clinics (41%) had three or fewer PCPs, and 78% of clinics in the program had fewer than nine providers. The majority (60%) of these clinics serve 5,000 or fewer patients. Only 15% serve more than 10,000 patients. The 374 participating clinics represent 248 different practices. Most practices (203, 82%) applied as a single location. Of the 45 practices that applied on behalf of multiple clinics, most (40, 89%) applied on behalf of six or fewer clinics.
Clinics that participated in the COPCPVax program treat patients in disproportionately vulnerable areas of the state. Of the 374 clinics participating in the program, 132 (35%) are located in an area in the top 25% of the state for social vulnerability, as measured by the Centers for Disease Control and Prevention's Social Vulnerability Index. Nearly one-third (30%) of clinics participating in the program were located outside of Colorado's Front Range — reaching from the southeast to the northwest (see Map 1). Forty-three of Colorado's 64 counties had at least one clinic participate in the program.
Socially vulnerable populations are especially at risk during public health emergencies because of factors like socioeconomic status, household composition, minority status, or housing type and transportation; these can include persons who have special needs, such as, but not limited to, people without vehicles, people with disabilities, older adults, and people with limited English proficiency.
Clinic Types
The program reached a wide array of practice types, including many clinics in Colorado's health care safety net, the network of clinics and providers that care for the state's most vulnerable residents:
70 federally qualified health centers (FQHCs)
24 rural health clinics (RHCs)
23 school-based health centers
16 community health centers
15 safety net clinics
12 migrant or refugee health centers
1 mobile free clinic
1 STI/HIV clinic
Impact on Colorado's COVID-19 Vaccine Infrastructure
100+ more primary care clinics are now providing the COVID-19 vaccine.
Thanks to funding and technical support from the COPCPVax program, 121 new primary care clinics enrolled as COVID-19 vaccine providers. This means more than 100 new clinics are now able to provide the vaccine to their patients in the primary care setting, either as part of a regular visit or a vaccination-specific appointment. Many of these clinics are also working to vaccinate their communities through stand-alone vaccination events.
Twenty-two clinics in rural counties enrolled as COVID-19 vaccine providers with support from the COPCPVax program (see Map 1). Of the 121 clinics participating in the COPCPVax program that were newly enrolled as COVID-19 vaccinators, 31 are located outside the Front Range.
Forty-one of the 121 newly enrolled clinics were already enrolled in the Vaccines for Children (VFC) program, which provides vaccines at no cost for children who are uninsured, underinsured, on Medicaid or Medicaid eligible, and/or Alaska Native/American Indian. In total, 211 of the 374 participating clinics were enrolled in the VFC program prior to joining the COPCPVax program. 
Primary care clinics are now better equipped to acquire, store, and administer the COVID-19 vaccine and support and train their staff.
The COVID-19 pandemic has strained the health care system, and many practices have experienced severe staffing shortages and turnover. The COPCPVax program provided clinics with funding to support personnel involved in patient outreach and engagement, scheduling, marketing, ordering, administration, and reporting related to the COVID-19 vaccine. Funding also supported staff training and development related to COVID-19 vaccine administration and reporting. Clinics also used funding to staff COVID-19 vaccine clinics outside of regular business hours to increase access to and availability of the vaccine.
With COPCPVax funding, clinical sites invested in vaccine storage and infrastructure to support vaccine administration. Some sites used the funding for minor building modifications, such as rewiring a room to accommodate a vaccine storage unit. Many clinical sites purchased vaccine storage equipment and technology needed to acquire, administer, and report on the COVID-19 vaccine. These investments in infrastructure, capacity, and training set up these practices to continue to administer COVID-19 vaccinations and other routine immunizations in the future. 
COPCPVax-funded clinics administered more than 270,000 vaccines.
Clinics participating in the COPCPVax program administered 272,566 COVID-19 vaccine doses from September 2, 2021 through January 31, 2022. That's the equivalent of first, second, and booster doses for nearly 91,000 Coloradans (90,855). COPCPVax clinics delivered nearly one of every 10 immunizations delivered in the state during the grant period. Over 14,500 COVID-19 vaccine doses were provided by the 121 newly enrolled providers receiving funding from the COPCPVax program. That investment will continue to pay dividends in the future as those providers continue to vaccinate their communities.
A majority of Coloradans receiving a vaccination from a COPCPVax-funded provider (56%) were white, non-Hispanic individuals. That is slightly lower than the white, non-Hispanic population as a percentage of the total state population (65%, according to CDPHE data). More than three in 10 (34%) individuals receiving a vaccination through the program were either non-white or Hispanic. Ten percent were of unknown race or ethnicity (see Figure 1).
CHI worked with program advisors, CDPHE, and the Colorado Department of Health Care Policy & Financing (HCPF) to identify and enroll pediatric clinics in the program. More than 100 (110) pediatric clinics participated in the program, 33 of which were not already enrolled as COVID-19 vaccinators prior to participating in the COPCPVax program. Fifteen percent of Coloradans vaccinated by a participating clinic were under age 10. 
COPCPVax-funded providers administered almost 86,000 vaccines to Health First Colorado members. 
Across the country, Medicaid enrollees are being vaccinated against COVID-19 at lower rates than the overall population. Medicaid, which in Colorado is called Health First Colorado, serves a lower-income and disproportionately non-white population. It is also a vital source of coverage for people with disabilities, pregnant people, and — along with Child Health Plan Plus — children. The program's importance for these populations and the disparity in vaccination rates make outreach and vaccine access priorities for health equity.
Health First Colorado members received 85,939 COVID-19 doses, or nearly one-third (32%) of the total doses administered under the program. Over 3,500 (3,610) of those doses were administered by providers who enrolled as vaccinators with support from the COPCPVax program. 
COPCPVax-funded providers administered thousands of COVID-19 vaccines in rural areas and in counties with low vaccination rates.
Clinics participating in the COPCPVax program administered 46,046 doses in rural counties. A total of 13,814 doses were administered in counties with the lowest vaccination rates (60% or less of the population 5 and older immunized with one or more doses of any COVID-19 vaccine as of March 2022).
Adjusting for population size, clinics in several counties along the Western Slope and in the San Luis Valley vaccinated the most Coloradans. Clinics in Garfield, Eagle, Pitkin, San Miguel, and Alamosa counties provided more than 122 vaccinations per 1,000 residents (see Map 2).
The Road Ahead
Colorado's investment in primary care provider vaccination capacity will pay dividends well into the future. These investments directly support activities outlined in Colorado's Roadmap to Moving Forward, which details the state's plan for the next chapter in managing COVID-19.
Investment by the state through the COPCPVax program in Colorado's primary care workforce supports Colorado's efforts to shift COVID-19 immunization efforts from state and local public health agencies' emergency response to the health care system, which treats every other disease and condition. This investment also supports vaccination efforts for hard-to-reach communities. 
Our PCPs are essential partners to ensure public health readiness and to normalize COVID-19 patient care in traditional medical settings — two critical steps outlined in the state's February 2022 transition plan.
Questions?
Learn more about the COPCPVax program. For any questions about the program please contact cdphe_covidvax@state.co.us.