Hot Issues on Hiatus
We are sorry to announce that the Hot Issues in Health conference will not take place in 2021. The magic of Hot Issues comes from a face-to-face gathering of Colorado's health policy community. We will be back when we can gather in person in a safe and responsible manner.
In the meantime, stay up-to-date on CHI's research with Eggheads, our monthly breakfast seminars. Look for a 2022 legislative preview at our December Eggheads event.
Like many parts of life in 2020, Hot Issues was different.
The two-hour online conference put forward our best thinking about politics, policy, and ethical leadership during this pivotal moment.
Replay our 2020 conference in the three videos below. 
About Hot Issues in Health
Hot Issues in Health brings together a diverse crowd of state legislators, regional and local policymakers, representatives from insurance carriers and health systems, consumer advocates, health care providers, researchers, students and journalists. Hosted by the nonpartisan Colorado Health Institute, the event has convened the state's leading thinkers to discuss pressing issues related to health and health care for nearly 20 years.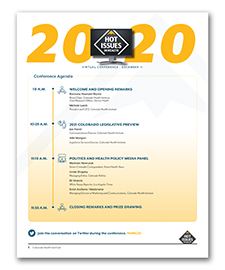 ---
---
2019 Hot Issues in Health – Download the Presentations