Heat Waves and Homelessness: Record-Setting Heat Puts People Experiencing Homelessness at Risk
July 28, 2021

This summer, cities across Colorado have hit record temperatures, with Denver tying its highest temperature ever recorded — 105 degrees. Extreme heat poses health risks to all Coloradans, but for people experiencing homelessness, the risk is even greater.
As many of us return to a more normal life this summer, people are spending more time outside and feeling the extreme heat — defined as temperatures above 90 degrees. Exposure to these temperatures can cause a variety of health problems,  especially for sensitive groups like older adults, people with chronic diseases, young children, and people experiencing homelessness.
For people experiencing homelessness, seeking refuge from scorching heat is not as easy.
Climate change poses a relatively new problem for people experiencing homelessness in Colorado. In general, homelessness resources and services are designed to keep people warm in the winter, not cool in the summer.
Many people experiencing homelessness are living in the hottest areas of the city. On top of the record heat, Denver already ranks third highest in the United States for the "urban heat island" effect – a phenomenon where urban areas that lack green spaces (trees, grass, shrubs, etc.) are hotter on average - just after Las Vegas and Phoenix. Paved areas of Denver are, on average, 4.9 degrees hotter than surrounding areas.
As more tent camps have popped up on the pavement in the metro area, there is growing concern that unhoused people could be at higher risk for extreme heat exposure and its dangerous health effects. Thousands of people are at risk.
According to the Metro Denver Housing Initiative's Point in Time Survey, as of January 2020, more than 6,100 people were experiencing homelessness in the Denver-area counties (Adams, Arapahoe, Boulder, Broomfield, Denver, Douglas, and Jefferson counties). That's up from 5,300 in 2018. Another 840 Coloradans experiencing homelessness live outside the Denver area, with the largest populations in Grand Junction and Pueblo.
Counties with significant populations of people experiencing homelessness also have high numbers of extreme heat days.
Denver, Mesa, and Pueblo counties have all seen an increase in extreme heat days in recent years. In Mesa County, more than one in five days in 2020 saw extreme heat (see Figure 1).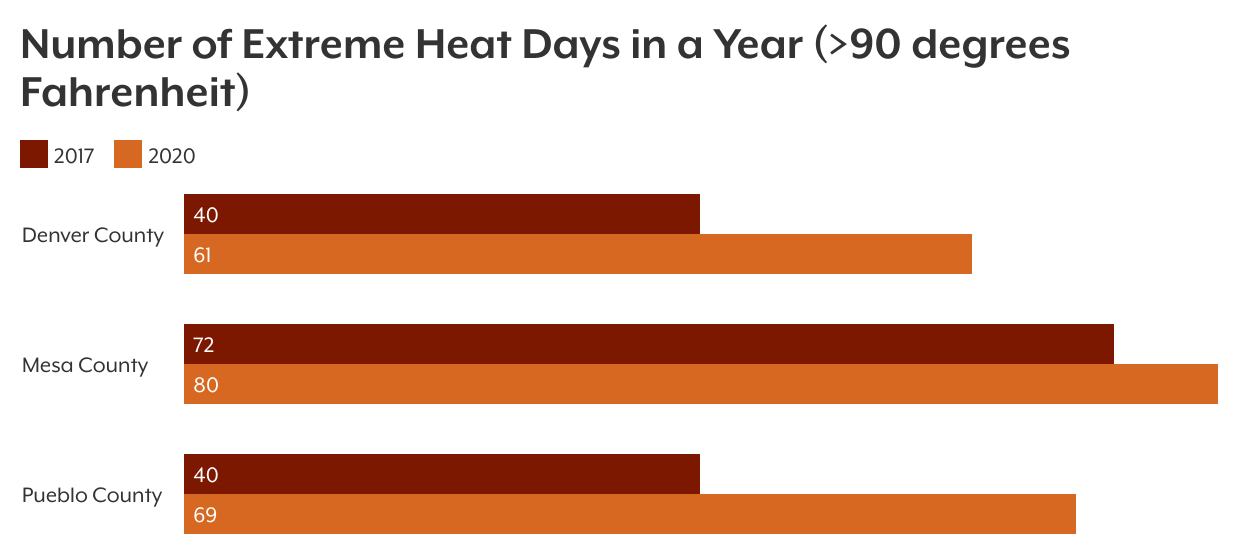 What's the Health Connection?
The U.S. Environmental Protection Agency (EPA) estimates 1,300 heat-related deaths occur nationally every year, with heat contributing to hundreds more deaths in some years. Many persons experiencing homelessness have chronic health conditions (like high blood pressure, heart disease, and diabetes), mental health and substance use issues, and other traits that put them at greater risk of illness or death when exposed to extreme heat.
Extreme heat affects cardiovascular, respiratory and nervous systems, and can cause heat stroke, dehydration, chronic kidney disease, and exacerbation of a number of chronic health issues (see Figure 2).
Figure 2: Health Impacts of Rising Temperatures and Extreme Heat Days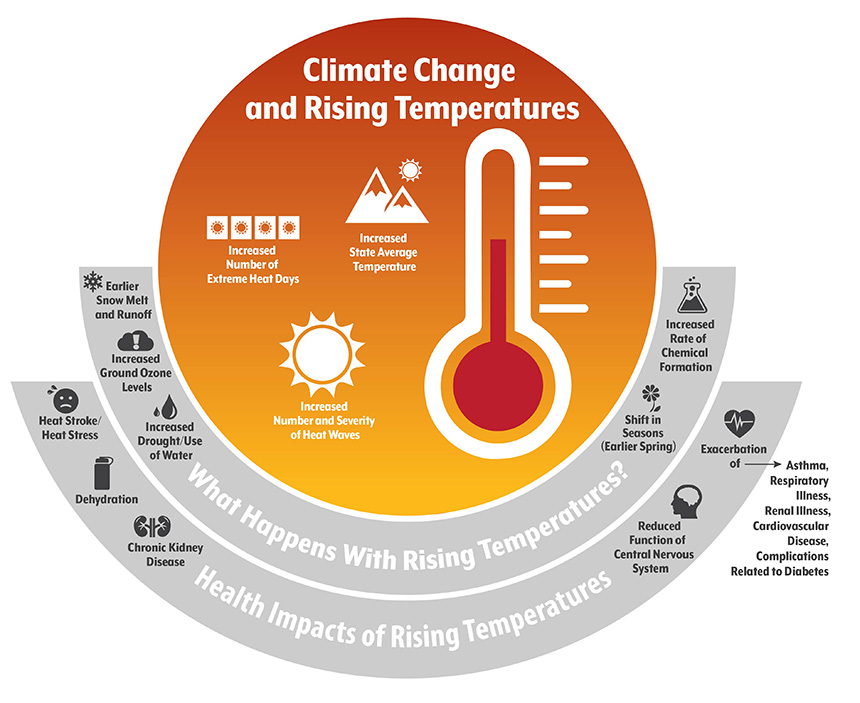 Nearly a quarter of Denver's unhoused people are over the age of 55, putting them at elevated risk from extreme heat. And more than 25% of persons experiencing homelessness in Denver were Black or African American – more than five times the state population average of 4.6%. The impacts of extreme heat may contribute to furthering racial health inequities as well.
Climate change points to more extreme heat days and rising temperatures in Colorado, but there are ways to act now to help.
What Can We Do?
While only concerted global action can change the temperature, local efforts can help connect people seeking refuge from the heat to places to cool down. The community has built an infrastructure to keep people safe in the winter, and now it will have to think about and act on summertime safety.
This summer, Denver Mayor Michael Hancock announced the opening of 10 cooling stations at recreation centers that provide free access to ice, water, and couches for anyone to seek refuge from the heat. The city also has dispatched street outreach teams to direct persons experiencing homelessness to the cooling stations. However, cooling stations are a stopgap measure.
Other, more long-term solutions could be in the works: Billions of dollars of funding are on their way from the American Rescue Plan Act and will be available soon to address short- and long-term approaches to protect these populations and eventually get them housed.
Extreme heat is only one of many factors that significantly put this population's health at risk. But the combined forces of a growing number of people experiencing homelessness and rising temperatures may create a window of opportunity to not only protect some of the most vulnerable from extreme heat, but also reimagine how we address homelessness in Colorado.
---
Related Blogs and Research