Why Health Equity and Climate Change Go Hand in Hand
February 4, 2022
Social Determinants of Health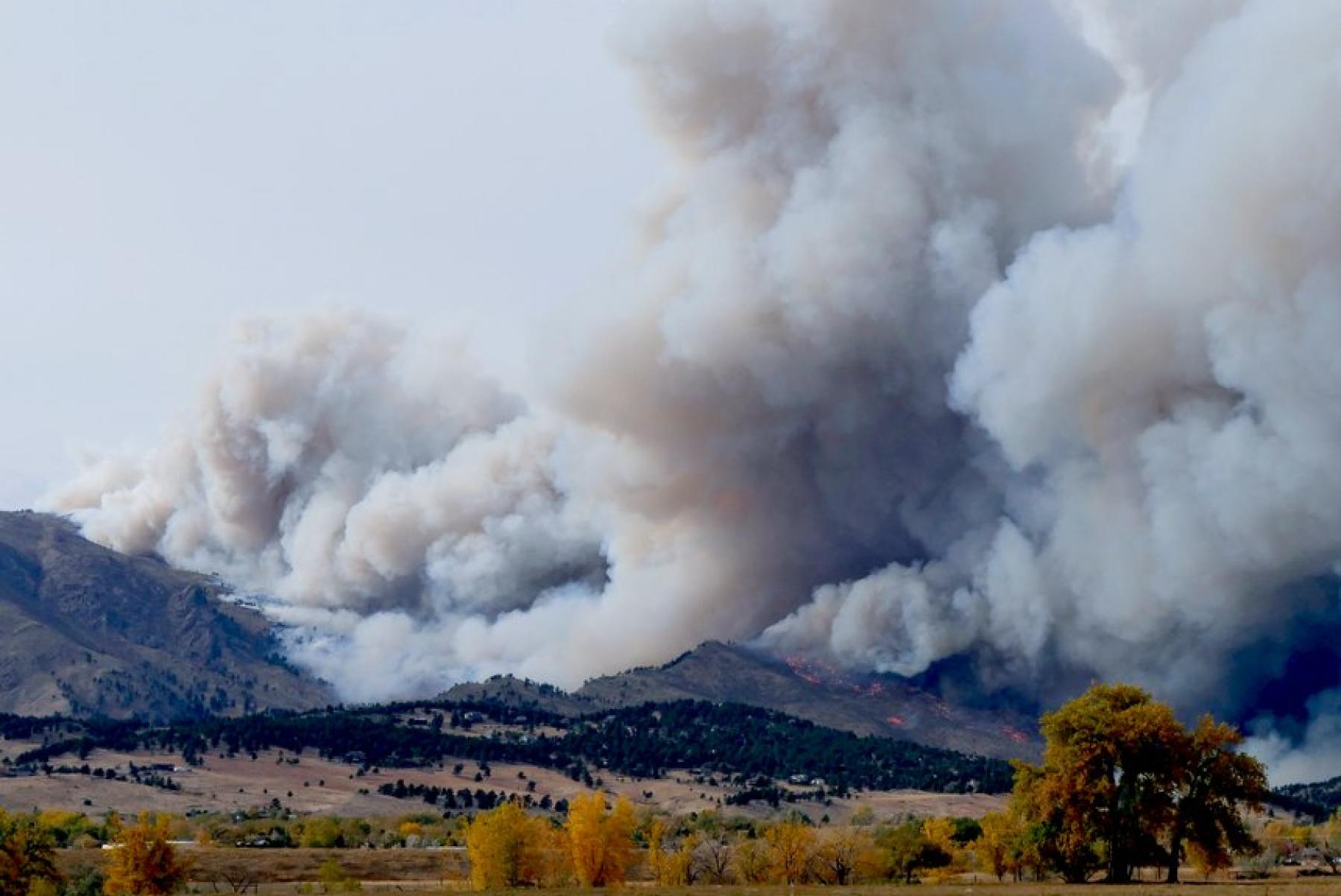 Climate change can seem like a problem so big and broad that everyone is at equal risk. Increased drought, higher temperatures, extreme weather, and other impacts of a changing climate in Colorado will surely affect the lives of everyone who lives here.
But as it stands, climate change's threat to health will not be experienced equally — and many of these differences are avoidable, unfair, and systemic. Social factors and context — like age, poverty, discrimination, education, and access to care — all play a role in a person's risk of climate-related health consequences.
When we talk about health equity in Colorado, we have to talk about climate change; and when we talk about climate change, we have to talk about health equity.
That's why the Colorado Health Institute (CHI) is launching a new initiative on climate and health equity in 2022. This year, we will build on our work identifying communities where the human health effects of climate change are likely to be more pronounced. We'll also be putting forward an ambitious policy agenda for adapting to a warming world.
Many people of color, immigrant groups, low-income Coloradans, children, and older adults are more likely to suffer from the effects of a changing climate. Other groups at higher risk include people with disabilities and with pre-existing conditions, people experiencing homelessness, and people with certain types of jobs, such as construction workers who often work outside.
It is no coincidence that many of these same groups are particularly vulnerable to COVID-19: Like the virus, climate change is creating new public health challenges and exacerbating health issues for people who were already more at risk.
How Climate Change Worsens Inequities
As CHI highlighted in a 2017 report, climate change is leading to more extreme temperatures and weather events and to worse air quality in Colorado. These changes affect people's health in myriad ways: Extreme heat has been linked to preterm births and increased rates of heat stroke in children; poor air quality can increase the severity of asthma; extreme weather events can lead to urgent health crises or sudden death.
Why is this an equity issue? Consider the growing number of extremely hot days. In Colorado, Black, Latino, and Indigenous residents are more likely to have incomes at or below the poverty line, due a range of systemic barriers. These Coloradans are less likely to have access to in-home cooling systems — which puts them at increased risk of heat stroke on days when the temperature spikes above 100 degrees. Black Coloradans also already have a higher rate of preterm births, and an increase in extreme heat days could increase this disparity.
The pandemic has exacerbated some of these inequities: For instance, the 2021 Colorado Health Access Survey found that 27.5% percent of Black Coloradans had lost their jobs during the pandemic — significantly more than the 9.5% of white Coloradans who experienced job loss.
History matters for climate vulnerability. Across the country, discriminatory policies have resulted in people of color living in more polluted areas or in places at higher risk of extreme weather events like flooding or fire. One recent study found that the U.S. government displaced Indigenous peoples to areas that are disproportionately exposed to climate risks.
Even sweeping climate disasters have equity implications. The Marshall Fire, in which climate change played a key role, leveled entire communities in Boulder County at the end of 2021. But people with fewer resources are less likely to be able to, for instance, pay astronomical rents to remain in their neighborhoods or be able to afford a car to get around as their communities are rebuilt — and are therefore at risk of stress and even of being displaced from their neighborhoods.
Doing Things Differently
We are not starting from scratch when it comes to addressing climate-related inequities. But policymakers and organizations invested in health and equity must do things differently to make sure their solutions achieve their goals — and don't make inequities worse.
In 2019, CHI published its Climate and Health Index to spotlight which climate impacts are likely to affect different regions, who is likely to be most affected, and policy solutions and steps communities are taking to prepare for a changing climate. We at CHI believe that Colorado's communities should be aware of the threats facing their residents — and have plans in place to adapt in an equitable way.
We are excited to see that policymakers have taken other steps to prioritize environmental justice and highlight the connection between climate and health equity.
In 2021, the U.S. Department of Health and Human Services created an Office of Climate Change and Health Equity with a goal of "protecting vulnerable communities who disproportionately bear the brunt of pollution and climate-driven disasters, such as drought and wildfires, at the expense of public health."
In Colorado, the Environmental Justice Act, passed in 2021, tasks the state with reducing environmental health disparities, with a focus on disproportionately impacted communities — areas where at least 40% of households are low-income, people of color, or burdened by housing costs; communities with a history of environmental racism perpetuated through laws, including anti-immigrant laws and redlining; and communities where multiple factors, including socioeconomic stressors, contribute to persistent public health and environmental disparities. An environmental justice team at the Colorado Department of Public Health and Environment (CDPHE) is spearheading this work.
CDPHE's environmental justice work extends beyond the toll of climate change on health. For instance, the department is working with the community around Commerce City's Suncor Refinery — which is identified as a disproportionately impacted community — to address heavy pollution. Climate change is likely to exacerbate the impacts of these other environmental issues.
And in Denver, the city has created a framework to ensure that new funds to address climate change are distributed with equity in mind.
It's one thing to create a new department or build a framework. But creating truly equitable policy requires doing things differently.
"Community moves at the speed of trust," said Heather McNeer Toney, Vice President of Community Engagement of the Environmental Defense Fund, in a recent webinar on equity and climate change hosted by the National Institute for Health Care Management (NIHCM) Foundation. "When we rush solutions, it also comes at the detriment of those who are hardest hit, who are first hit, and who are more likely to experience traumatic responses as a result. … Sometimes moving slower is moving faster."
Many Coloradans are calling for a different approach to climate policy and community engagement: A 2021 letter from environmental activists to CDPHE's climate team called on the state to create new decision-making processes and strategies to avoid perpetuating the inequitable status quo. The letter asked the state to identify historic and ongoing sources of inequities; create meaningful engagement by sharing information and shifting power; and ensure that there are meaningful outcomes and change as a result of environmental justice work.
Connecting the Dots
At CHI, we are joining with Coloradans to address this profound threat to human health and support the resilience of communities.
We are striving to work with our partners, from health systems and providers to public health to community-based organizations and foundations, to make the connection between health equity and climate change and to address the wide range of social inequities that put people's health at risk.
And we are committed to working differently to make sure that climate change is part of Colorado's approach to health equity, and that health equity is part of our approach to climate change.
Improving health equity as we adapt to a changing climate requires big shifts. It requires thinking expansively about health, taking the long view, and learning as we go. It requires people and organizations who have historically held power to be willing to shift that power and to truly listen, engage, and be held accountable. The health and safety of Colorado's people depends — urgently, and fundamentally — on our ability to make these shifts.
---
Read More About Climate and Health